THERMO CAPE has 3 different temperature levels, e.g. 34 degrees Celsius, 39 degrees Celsius and 44 degrees Celsius that you can select and adjust to your personal needs. Depending on the heat level, the battery life is up to five hours. THERMO CAPE can be folded like an article of clothing and fits ideally in the accompanying bag. If soiled, the THERMO CAPE can be washed or dry-cleaned without any problems.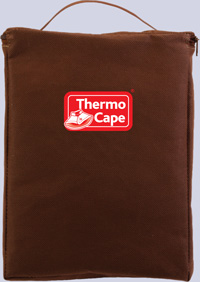 The accompanying batteries are lithium polymer high-performance batteries that do possess a memory effect and can be recharged up to 500 times. Furthermore, each battery only weights 59 grams and is very light so that you do not even notice it on your body.
The THERMO CAPE can be worn under your coat or jacket. Thus, you can wear the THERMO CAPE inconspicuously outdoors and are always mobile with the power supply from the batteries. The THERMO CAPE is made of a fleecy soft fabric, which additionally ensures a pleasant wearing comfort.
The THERMO CAPE is supplied with an extra neck collar, two batteries, a charger, as well as a convenient carrying bag. Due to its shape, the THERMO CAPE adapts to every individual body size.